How to bring swarm of customers to you Magento store?
Want to set up an eCommerce store? The first step is to choose the right technology. As per the market trends, we can see that Magento leads race of the eCommerce development platform. So, your next step is to verify whether it is a best fit for your website or not.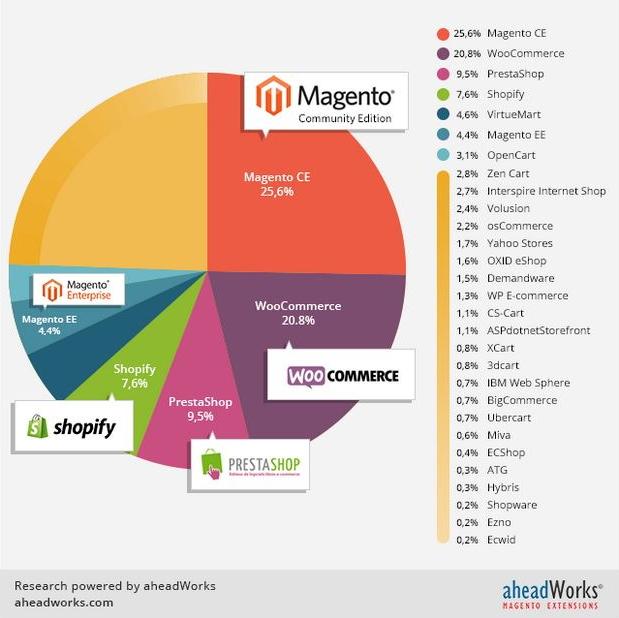 Finally, now you have chosen Magento and your online store is ready on the web to cater customers.
But where are the customers?
Technology selection , hiring the right expert Magento developers and Web development life cycle are few necessary steps but not sufficient ones. In order to make a wholesome eCommerce store you need to know more.
Let's discuss !
1) Adopt Responsive Solutions
Mobile technology has completely taken over the web world . However, there are so many business owners who are still ignorant of the fact that people now use mobile devices to shop online and consequently we have got the term mCommerce.
Google also noticed this soaring trend of mobile devices and therefore it launched Mobilegeddon algorithm which abandoned websites which were not responsive. As per this algorithm, the ranking of your web site will depend whether it is mobile friendly or not. This has not made responsive web design a trend but a necessary condition for survival in the Internet world. Therefore, you need to make sure that your Magento site is mobile-friendly , if not it will be abandoned from Google ranking and will yield poor results.
Along with this algorithm Google has also launched a Tool to test the Mobile- Friendly status of your website which test how well your Magento website runs on all devices. All you need to do is to enter the URL (shown in the pic. below) of you Magento website and click the analyze button to know the mobile friendly status of your website. This is the message you will get for websites which are not responsive.
All these stats and updates reinstates the fact that you need to ensure that your Magento powered eCommerce website must cater the mobile users, thus should be an mCommerce site. The most intelligent, economical and sustainable technology which you can adopt is responsive web design.
Magento also offers ample lot of themes which are responsive. You can choose them as per your requirement and budget as these themes are premium and free as well. To further test whether the your choose theme is responsive or not you can Google's tool.
Social media has also worked as a prime factor in increasing the mobile traffic to eCommerce websites. The zest to stay connected and on the top of it via such handy devices has indirectly lead to increase in mCommerce. People share what they have purchased and this works as a marketing tool as we certainly believe on what our friends have recommended.
2) Social Media is a powerful tool
Many researches have revealed that social media plays a very good ground for attracting customers and business conversions. It was also observed that Facebook brings 12 percent of the traffic on your Magento stores, wherein search engines account for only 36 % of the traffics share.
If used with a proper strategy and right skills, Social media can prove to a green pasture for business gains. For that all you need to do is to grow you visibility and foster healthy relationships with your audience. Social networking sites work as an outlet for common people where they can vent their thoughts, be it positive or negative. Thus, it satiates their psychological needs of sharing and knowing what others our doing. Learning this the giants have also delved deep into search media optimization (SMO) and are now targeting Facebook, Twitter , Pininterest and other social media networks.
Moreover, social media marketing stays longer unlike normal television adds as with every like, share or retweet your post is again visible to the audience. This is not possible in normal advertisements which makes them ephemeral, wherein in social media the popularity of you post grows as it grows older.
In order to get fruitful gains from social media you need to have a proper strategy for your Magento website. Your aim is to increase the visibility of your post! For this you need to evaluate your post under following metrics:
What is the right time to post?
Who is my target audience?
Where is my target audience situated?
Is my post relevant to audience needs?
What is the quality of my post?
There are many free twitter tools to check these things and apart form this you can obviously form a learning curve first using the analytical tools which tells you :
Number of user visits
Popularity
Engagement of your posts
After getting this learning curve one can certainly improve the quality and other factors such as posting time which is the crux of social media marketing. Buffer is a twitter tool which helps you schedule your tweet and CoTweet which helps to analyze your tweets. Likewise, there are tools for other social media accounts which can help you to formulate the best social media marketing strategy.

3) Make your Magento site Magnetic

Another important thing you need to have in order to boost your online sales of your Magento store is to make your web store magnetic like a magnet. You can use the best social media marketing strategy to bring traffic swarm on your website and then you can give them incredible user experience via your responsive web store, but will they return back?
All amount of sales or discount won't be that fruitful in making your website magnetic. However, in order to retain your audience you can start email marketing campaigns and provide them personalized cu-pons. You can use these deals as a bait to allure your customers and persuade them to come back.
This is proven strategy to get maximum returns on investment. However, you need to first perform a Split or A/B testing before launching your email marketing campaigns, as doing so will optimize your click through rates and email open.
You can also send your user emails seeking the reasons for abandoning the shopping cart. Not to forget is a reward email for your loyal customers comprising of cupons or discounts. Now for those people who are dormant users; those who have visited your Magento store but have not purchased. So you can send them personalized mails informing them about the deals of that particular day.
Web development like setting up a Magento webstore and making it up and running online is not the only step to attain success. In order to get success you need to delve deep into business development.
I hope the strategies mentioned above will help you in your endeavors!
Feel free to drop your queries!
Author Bio: Isabella Morris is currently employed with a renowned Magento web development company and is also engaged in writing informative articles on best tools and tricks for Magento development. Her write-ups have proved beneficial for a wider group of Magento developers across the globe.